Recap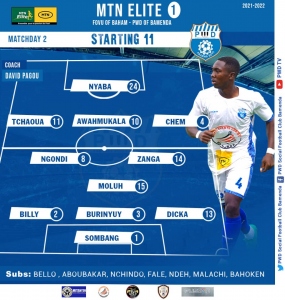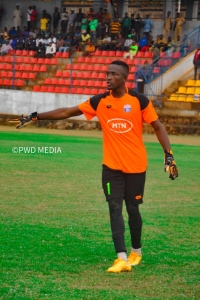 PWD on Wednesday 23 March beat Fovu of Baham by  two goals to zero  to record our first point of the campaign. Debutant, Sombang A Menang as the hero of the day, saving a penalty when it was still zero all and putting on a fine display to keep a clean sheet.
Two goals at the 50th and 88th minutes from makeshift attacker Nyaba Brian and substitute Mohammed Abubakar were enough to seal the victory for the Blues and keep us withing ouch in distance of the leader Bamboutos.
The victory was a trusted to head coach, David Pagou who was in the Far North for his mum funeral. Coach Tama Wango deputised for him, putting up a brilliant show from the dugout.
Next we are in Bandjoun to take on Avion of the Nkam
This is how we lined up against Fovu for Match day w in Mbouda
Details
| Date | Time | League | Match Day | Full Time |
| --- | --- | --- | --- | --- |
| March 23, 2022 | 3:00 pm | MTN Elite One B | 2 | 93' |