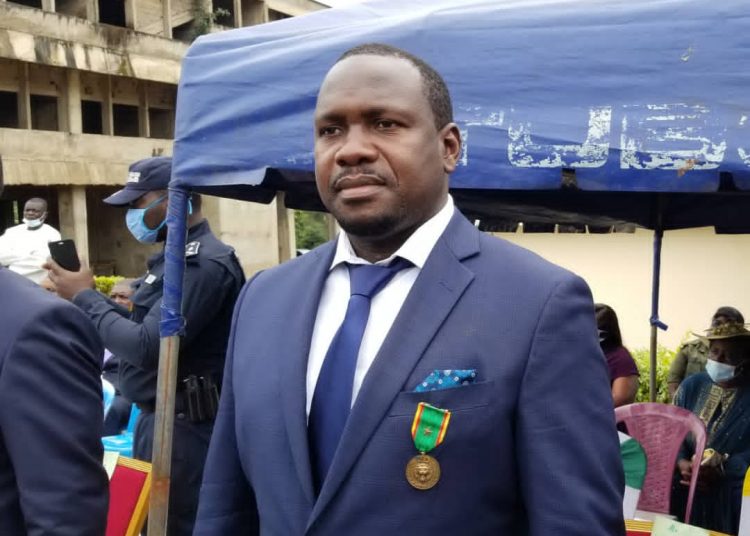 Dear PWD Bamenda Family,
Accept warm greetings from the management of our darling team, PWD Bamenda. On Wednesday July 7, 2021 we will engage the second phase (return leg) of the national elite one championship with a home game against Yafoot of Yaoundé. It's no news that the first phase was a very tough one for us to navigate. Notably because we lost the team's bus to a fire accident on our way to Yaoundé for a league match against Dragon FC.
But despite this set back, we picked up the bits thanks largely to the support of our loyal and faithful fans. I am happy to inform you that our club will be having a new and more befitting bus in the days ahead thanks to the fundraising drive initiated by our Elite Minister Mbayu Felix. We will never stop to thank all the goodwill donors who took part in this exercise.
As we prepare for the restart of the league, I can confidently say we are on track, given the targets we set out for ourselves. This was ending the season with silverware.
As it stands we ended the away leg on 17 points, four points away from pool leaders Fovu of Baham on 21 points and joint 3rd with Stade Renard after 10 games played. We won four, drew five and suffered only a single defeat to Union in Douala on the last day of play.
We've equally qualified for the quarter finals of the Cup of Cameroon and the last time we got to this stage of the competition was more than a decade ago.
Our options are wide open with the league and the cup still possible goals for us, and why not the double! It's possible, only if we believe.
I also share the frustration of some of our fans who would have loved to feel PWD Bamenda as champions of Cameroon, with the trophy parading the streets of our darling town. I tell you we also would have loved nothing more than this. But the circumstances were not favourable. Management took the hard decision to leave the trophy in Yaoundé because it was not accompanied by the complete financial package. It will be of no use parading such when it was not backed by the remuneration of the effort we put in. However, understanding the significance of such moments to our fans which surpasses any financial remuneration, the management has decided to take special measures for the trophy to be presented prior to our first game of the second round on Wednesday the 7th of July 2021 and the Young Sports Arena.
As we kick-start the second phase, the task ahead of us is daunting. As reigning champions our opponents will want to measure their strength and depth against us. The fight against relegation would be ferocious while the battle for supremacy will be more than intense. We would need to fend off adversaries on all fronts if we need to replicate our success of last year or even do one better.
Our adversaries and rivals will offend and provoke us. We will win and loss matches, we laugh and cry, we will jubilate and remain quite at times, we will dominate play and be dominated at times, we will entertain and at times not. I tell you we will have ups and downs but one thing we can be sure of is our loyal and faithful fans that you all are. If we have to repeat the feat of last year or go further, it will be thanks to your continuous dedication and firm support for the team.
We at management will continue to do what is right for this team to be where it deserves to be but we cannot do this all by ourselves. We need the fans by our side all the way through. That is why we are counting on your full engagement with the team as we welcome first opponent on Wednesday.
I see a brighter future for PWD, and am sure you the fans do too. After the exploits of last season I don't think the is any one of us who does not want a repeat of it. We are at the threshold of another joy ride. Let's all put out hands together and am sure we will taste sweater victories.
PWD IS RISING TO FALL NO MORE.
Bamenda July 06, 2021
Pascal Abunde
President General
PWD SFC Bamenda